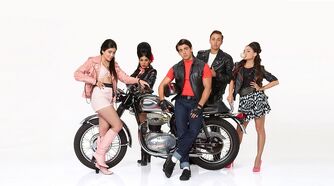 The
Bikers
are a group of teenagers in
Wet Side Story
. They are known as "The Rodents". Their leader is Butchy. They have a rivaling game with the
Surfers.
Background
It is currently unknown how the bikers were formed, but at one point, Butchy, Lela, CheeChee, Lugnut, Struts, and various other teenagers joined together to make "The Rodents". It's also unknown why they began to have a rivalry with the surfers, but it's likely that it's because of their desire for Big Momma's.
History
In the original Wet Side Story, Butchy's younger sister, Lela, falls in love with the head of the surfers, Tanner, and they have to keep their love a secret.
List of Bikers:
Ad blocker interference detected!
Wikia is a free-to-use site that makes money from advertising. We have a modified experience for viewers using ad blockers

Wikia is not accessible if you've made further modifications. Remove the custom ad blocker rule(s) and the page will load as expected.