Welcome to the Teen Beach Movie Wiki
Administrators • Recent Changes • New Photos • New Pages • Help Wiki
This wiki is dedicated to the Disney Channel hit movie series. Please help us by creating or editing any of our articles! We currently have 15,697 edits to 150 articles and 3,718 images on this wiki.
Characters
Movies
Teen Beach Movie

- The movie introduces onfident, resilient surfer Mack and her carefree boyfriend, Brady, a fan of the retro surf musical movie, "Wet Side Story." On the morning of Mack's planned departure for boarding school, she and Brady catch one last epic wave which mysteriously carries them right into "Wet Side Story," year 1962. Amidst the spontaneous song and dance, there's trouble in paradise -- it's bikers versus surfers for control of the local hangout. But while trying to find their way back to the real world, Mack and Brady unwittingly interfere with the movie's star-crossed plot, one that would pair a surfer, Tanner, and a biker, Lela, but instead pairs them with Mack and Brady. Typical of the teen beach movie genre, a kooky subplot has mad scientists Les Camembert and Dr. Fusion scheming to alter weather patterns and take over the local hangout -- and then the world.

Teen Beach 2

- The music-and dance-driven story picks up at the close of summer. With surf season over and high school back in session, laid-back Brady and studious Mack's relationship is headed for a wipeout when they receive a surprise real-world visit from their 1960s silver screen friends, Lela and Tanner, who have remarkably departed "Wet Side Story," quickly followed by their 1960s bikers and surfer friends led by Butchy, Cheechee and Seacat. Knowing first-hand that the "real" world and the movie world don't mix, Mack and Brady do their best to convince Lela and Tanner to return to what they know, but Lela is reluctant to give up the sense of individualism and empowerment she's afforded in Mack and Brady's present-day world. In a race against time, Mack, Brady, and all of their "Wet Side Story" friends must quickly devise a plan and use the magic of Lela's necklace to get everyone back to their movie world before it's too late.
Current News
Featured Article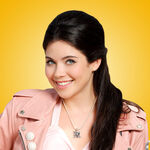 Lela
is the leading female character in
Wet Side Story
. When
Brady
and
Mack
go into the movie, Lela accidentally falls in love with Brady, instead of
Tanner
, her original love interest. She is portrayed by
Grace Phipps
.
Read More>>
Song
Falling For Ya (Reprise 2) is a song on the Teen Beach 2 Soundtrack. It is performed by Jordan Fisher and Chrissie Fit. It was written and produced by Jeannie Lurie, Aris Archontis and Chen Neeman. Read More>>>