All the songs from the TBM soundtrack are awesome but if I had to choose, I would say that my favorite song would be (UGGHHH!!! I can't choose!!) either Fallin' for Ya by Grace Phipps, Surf Crazy, Like Me, or Can't Stop Singing. I also really like Cruisin' for a Bruisin'!
What song(s) do you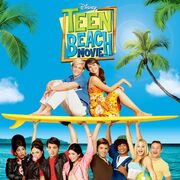 guys like from the soundtrack? Comment below!
Ad blocker interference detected!
Wikia is a free-to-use site that makes money from advertising. We have a modified experience for viewers using ad blockers

Wikia is not accessible if you've made further modifications. Remove the custom ad blocker rule(s) and the page will load as expected.